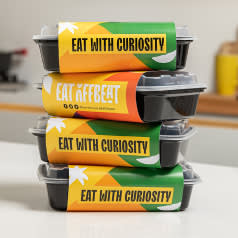 Subscribe
Curated meal boxes delivered
every month. Skip, pause, or
cancel any time.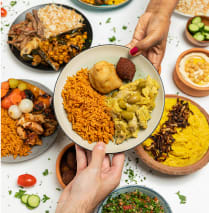 Explore
Experience authentic flavors from
around the world. Discover a new
menu every month!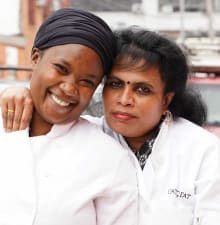 Make an impact
Support talented refugees who
prepare your meals with love, right
here in NYC.
Trying new food is our favorite way to share an experience. Our meals are created by chefs who celebrate their home country's culture and traditions... Learn more about us
Hear from people who Eat Offbeat
"Omg! I'm BLOWN AWAY by the food quality and variety! This is my first order and I'm going to recommend you to my friends and place future orders as well! Thank you so much, it tastes like a home-cooked, belly warming hug!"
Christie
" You guys are the best and really go above and beyond to deliver great products and service! I cannot wait for my next order! Appreciate everything you all do, hope you have a great weekend!"
Lakshmi
"Just want to say the food is phenomenal. My family loves "traveling the world" through all your delicious food!"
Marina
"Lunch was absolutely delicious! The food was simply phenomenal. Especially as a vegan, office lunches can be challenging; but today's food was outstanding."
Abbey
"Two thumbs up on the new menu!"
Jake
"I absolutely love your meals. Just tried the other day with a friend and now I think it's going to be one of our staples. So so good keep up the amazing work!"
Felix
"Just a note of appreciation to share with all at Eat Offbeat. We loved the new additions to the menu - both tofu dishes, the black beans, the couscous, the bhindi, the jackfruit - all so yummy. We'll be placing another order next week!"
Subarna
FAQS
How many meals do I get every month?
Can I customize my menu every month?
Will there be a variety of menus available?
How does Eat Offbeat figure out each mealbox' price?
What if I need to skip or pause my deliveries?
What if I want Eat Offbeat MORE than once a month?
What if I already use another meal delivery service?
Is the food spicy?
Is the food healthy?
What if I don't finish my mealbox?
More questions?
Full FAQs here
Hungry for adventure?
Join our mailing list now. As an Eat Offbeat insider,
you'll get access to deals, offers and more!